Apace (WA) is located on one hectare of land beside the Swan River in North Fremantle. The offices are housed in historic Winter House, built in the 1880's and restored by a community project funded by the City of Fremantle in the early 1980's. Apace (WA) has been resident at Winter House since 1983. To learn more about the history, read this article History of the APACE name.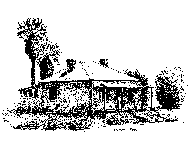 APACE AID (Inc.)
Apace Aid (Inc.) was established in 1985 in order to provide aid to the community in line with the ideals of the parent organisation. It has done this by providing training and education and volunteer and work experience opportunities to all members of the community, but particularly those who are disadvantaged in some way. Apace Aid (Inc.) is recognised as a public benevolent body by the Australian Taxation Office and donations to Apace are tax deductible.
A Management Committee is made up of invited members and administers of Apace Aid (Inc.). Apace Aid (Inc.) holds its AGM in March or April. The day to day running of Apace is undertaken by paid staff under the direction of a coordinator.
Apace Aid (Inc.) is self-funded, so in order to provide a secure financial base the Apace Community Revegetation Nursery was established in 1989. The nursery specialises in the propagation and supply of plant species indigenous to the Swan Coastal Plain and the Darling Range. Plants from the nursery are used in revegetation and landscaping projects throughout the Perth metropolitan area and beyond. The nursery is accredited with the Nursery Industry Association of Australia and all stock is grown under strict hygienic conditions. Each year the nursery produces around four hundred thousand plants and provides a very wide selection of species that are generally unavailable elsewhere. The Apace nursery was the first West Australian nursery to bring into cultivation a range of common rush and sedge species for wetlands revegetation projects. The nursery sells to the public as well as government, community and corporate agencies.
The nursery acts as a framework on which to build other Apace activities including revegetation projects, environmental weed control, and environmental consultancy and training. Apace places great emphasis on customer satisfaction and a personalised service, and is extremely versatile and resourceful in meeting clients' needs.
Training is an important component of Apace activities and over the years Apace has offered a considerable range of environment related courses. At the moment Apace offers one self-funded course – Seed Collection of West Australian Native Plants, conducted in November.
The organisation received funding from the Natural Heritage Trust in 1999 to establish the first community seed bank in the metropolitan area. As part of this major project Apace will provide training for community groups in seed collection and processing. Seed bank facilities available to the community will include state of the art seed cleaning equipment and storage facilities in a temperature controlled environment. APACE also offers contractual seed collection services.
Apace is open Monday to Friday. We can be contacted by phone or email during these hours. Further information about Apace can be found at our web site www.apacewa.org.au . Members of the public are welcome to come and visit the nursery and grounds and browse through our Retail Area. Parking is available and all buildings have wheel chair access. A rammed earth building at the rear of Winter House is used as a conference and training room and is available for hire. Facilities available include whiteboard, catering facilities and toilets, one with disabled access. The conference room can accommodate up to thirty people seated.