Revegetation Programmes
Apace has managed revegetation programmes for over twenty years and has amassed an impressive portfolio of work. Each year Apace supervises the planting of over 100,000 plants as project managers for local government and the private sector. We also undertake seed collection, weed eradication, soil stabilisation, project monitoring and reporting activities throughout the year. Apace offers a range of disciplines to ensure that your programmes can be totally managed by one organisation. We can assist you in all facets of revegetation large or small.
Solving landcare problems is made easier with our complete planning service. We can provide management plans, flora survey, revegetation designs, weed eradication strategies and other consultancy services. These are provided by Apace Natural Designs offer affordable initial consultation and appraisal of your particular needs, prior to any contractual agreements.
We can also implement existing management programmes. Our expertise relates to diverse natural project environments including beach dunes, coastal heath, wetland sites, coastal plain bushland and Darling Range forests, lithic communities and riparian sites.
To discuss any component of your project please contact us. We can offer advice and seek solutions to your needs.
Planting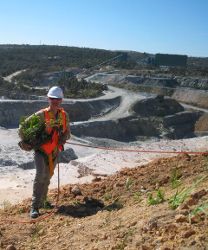 This includes layout to your specifications and planting into diverse site conditions such as beach dunes, wetlands, clay soils, laterite and mine overburden. Planting techniques include ripping, augering, dishing, rabbit guarding, tree bagging, fertilising, soil amendments, mulching and watering as required.
We also provide specialist planting services (using rope and harness) to undertake mine site rehabilitation on slopes. We can supply locally occurring plant species and deliver plants to site in covered vehicles.
Weed eradication
We can identify and focus on target species. Eradication techniques include hand removal, slashing, bagging, herbicide programmes and mulching. We can design weed management plans for specific sites and prioritise weed control.
Erosion
Soil erosion and sand stabilisation control using various techniques including matting, brushing and mulching.
Project monitoring
Periodic project monitoring and reporting to keep you informed of project outcomes. We can also implement ongoing maintenance activities to meet project goals.
Seed Services
We offer a complete seed service including provenance seed collection, processing, recording and cool storage. We can design and implement direct seeding programmes, including appropriate pre-treatment of seed and sowing using a variety of techniques suitable for the prevailing site conditions. We can grow to order for site with our popular provenance propagation service.